Alicia is Maddie Fenton's sister who lives in a cabin in an isolated woodland town.
History
Alicia states that intelligent women run in her and Maddie's family. They were born in Spittoon, Arkansas. Alicia has been married at least once and has been divorced from her ex-husband for least a decade. She's currently living by herself in Spittoon Arkansas. She grows rhubarb, makes her own lemonade, and chops her own firewood.
In "Prisoners of Love," Maddie travels to Arkansas to visit her sister on the anniversary of her divorce.
Appearance
Alice wears blue overalls with a plaid pink shirt underneath, brown boots and pink lipstick.
Personality
Alicia has a very strong sense of independence and self-reliance, but is also strict, short-tempered and tends to shout a lot. However, she clearly loves and cares about sister and isn't above tearing up from happiness when her sister remembers the anniversary of her divorce.
Relationships
Alicia loves her sister and cares a lot about her, complimenting her intelligence. However, she feels that Maddie shouldn't have married Jack and, while she doesn't actively try breaking them up, tries advising Maddie to divorce her husband
It's clear that Jack and Alicia don't like each other, with Alicia often telling Maddie that she should divorce Jack and Jack describing his sister-in-law as "a bitter old bat."
Unnamed Ex-husband
Alicia and her ex-husband had gotten divorced about ten years before the events of "Prisoners of Love," though the exact circumstances are never revealed. It's clear that Alicia doesn't like her ex, since she celebrates the anniversary of when they first got divorced. The rest of the people who live in Spittoon (along with Jack and Maddie) don't seem to like him that much either, since one of Alicia's neighbors refers to her ex-husband as "yuppie" (a typically derogatory term used to describe "a well-paid job and a fashionable lifestyle").
Sightings
Season 1
Trivia
Alicia's maiden name (or married name for that matter) have not been revealed.
Gallery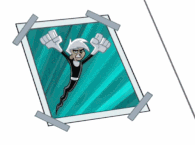 Click here to view the gallery.