Help. Help me. Help.
This page, while not being a stub, still needs some attention.
Amity Park Mall is the town mall.
History
In "Parental Bonding," Danny, Sam, and Tucker eat lunch in the mall's food court while discussing the upcoming dance. Meanwhile, Paulina enters the nearby Abyss store and is angered when the sales girls tells her that they have no more fleecy tees in her size. Due to the enchanted amulet she is wearing, Paulina's anger causes her to transform into a dragon ghost. Danny fights her in the mall and knocks the amulet off of her.
In "Attack of the Killer Garage Sale," Danny goes to the mall to pick up the "high-end sweats" for Dash's party.
"The Fright Before Christmas," starts out with the trio at the mall during a holiday rush. Sam greets shoppers with season's greetings, while Danny sulks in hatred of the holidays. Jack and Maddie, meanwhile, argue over the existence of Santa Claus at a "Meet Santa" area in the mall. Later, after the Ghost Writer inserts Danny into his new Christmas story, he returns Danny to the mall. Jack and Maddie's arguing spooks the reindeer at Santa's workshop, and the Ghost Writer turns the reindeer into ghosts. Danny attempts to stop them, but they trash the mall in the process, leaving the shoppers to blame Danny for the mess.
At the beginning of "Flirting With Disaster," Sam and Tucker are talking and hanging out in the mall's food court, when Valerie and Star show up. Valerie asks where Danny is, and after Sam says that he's busy, Danny Phantom crashes into their table while in the middle of a fight with Technus. They trash parts of the mall during their fight, which ends when Technus knocks Danny into a display.
In "Double Cross My Heart," Danny spies on Sam during her date with Gregor at the mall. While he's spying, the Guys in White attack him, causing him to escape to the mall's parking lot and turn back to human. There, he witnesses Gregor kissing Sam.
In "Boxed Up Fury," the Box Ghost attacks Danny at the mall by unleashing the Shoe Box of Terror. The shoppers referred to him as a traveling shoe salesman, and took the free shoes.
Stores
Trivia
Sightings
Season 1
Season 2
Season 3
Gallery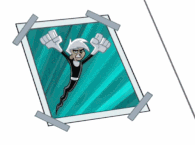 Click here to view the gallery.