Amorpho is a ghost with the power to shapeshift. As he has no identity himself, he envies Danny's fame and recognition.
History
In "Forever Phantom," Amorpho makes his first appearance by making his way around Amity Park, playing pranks by shape-shifting into various townspeople, until he sees Danny and is jealous of the attention that Danny gets. He decides to morph into Danny Phantom to steal the spotlight. He and the real Danny then get into a fight at Fenton Works, which results in an accident that cancels out both of their powers. Amorpho spends much of the day causing chaos, but ends up getting far more attention than he bargained for and returns to Danny. The two reconcile and Amorpho helps Danny to get both their powers back.
Amorpho later makes a cameo in "Phantom Planet" as one of Danny's attackers in the Ghost Zone and as one of the ghosts who help Danny save the world.
Appearance
Amorpho's original form is a sleek body that has no mouth or nose. He wears large red glasses, a fedora hat, a suit with long coat tails, a red tie, and a red sash, and carries a cane. However, he can shapeshift his body to become any form he wants.
Personality
As Amorpho is a ghost without an identity of his own, what he wants more than anything is attention. He is easily made jealous of anyone who gets more attention than him. Amorpho is very sly and loves to pull pranks, but even he has a soft side and can feel guilty if he takes a joke too far.
Powers and Abilities
Sightings
Season 3
Quotes
"Another day, another town to bring upside down."
"I may have no face on my own, but I'm seeing everywhere."
"My pranks are the top of the town; good news travels fast...TOO FAST!"
"How dare that fuzzy wuzzy steal my headline?!"
"What? He can alter his appearance too!? That's MY thing! He's stealing MY thing!"
"I'm me. And that means, I'm everyone."
Trivia
Amorpho does not appear to have fighting powers.
Amorpho appears to be one of the few ghosts who is not entirely evil.
Amorpho's appearance and powers may be on the cult classic antihero Darkman, who has synthetic skin that he uses to take on the appearance of others.
Gallery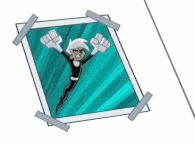 Click here to view the gallery.
Community content is available under
CC-BY-SA
unless otherwise noted.