"Until a group of powerful ancient ghosts banded together in a last ditch effort to defeat the King."

— Skulker
The Ancients are an ancient group of ghosts who long ago devoted themselves to defeating Pariah Dark. In modern times, not much of what remains of the Ancients exists.
History
The Ancients were a group and are said to have existed at the same time as the Ghost King. 
The ancient ghosts combine their ectoplasm shooting powers to shoot Pariah in the back. One ghost takes away the Ring of Rage, another takes the Crown of Fire, depriving Pariah of most of his power. Pariah is thrown into the sarcophagus. One ghost locks the sarcophagus with the Skeleton Key, sealing Pariah away for a good part of forever. The ghosts then fly out of the Keep and blast it with more ectoplasm, cutting it off from the rest of the Ghost Zone.
Description
The Ancients' true appearance is unknown and ambiguous at best. In their depictions, their figures are hidden and illustrations of them are up to interpretation. What can be concluded is that the majority of them resembled green ghosts with skeletal hands. They also wear purple cape with a head-model of a skull on it.
Powers and Abilities
Sightings
Season 2
Trivia
The Ancients are similar to the Ancients from the Sonic Boom universe.
Gallery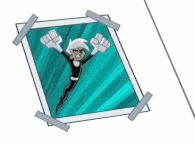 Click here to view the gallery.
Community content is available under
CC-BY-SA
unless otherwise noted.