Help. Help me. Help.
This page, while not being a stub, still needs some attention, specifically in the Personality section(s).
Baby Face Boyle[1] is a ghost and a Prisoner of Walker's jail.
History
In "Prisoners of Love," Baby Face Boyle appears as a background prisoner while Danny is in Walker's prison. He escapes along with everybody else during their prison break.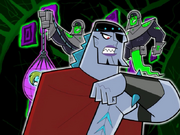 He is seen again at the beginning of "Public Enemies," running away as a fugitive from Bullet and his goons. After claiming that they'll never catch him, the guards do indeed capture Baby Face Boyle in a net. Bullet then tells Walker that they've caught the last escaped prisoner.
Appearance
Baby Face Boyle is a ghost with light blue skin, short blond hair, and red eyes. He has sharp teeth and wears oval-shaped glasses. He has a small head and a large, "Frankenstein"-like body.[2] He wears a black-and-white-striped prison outfit and black shoes.
Sightings
Season 1
Trivia
Baby Face Boyle is named after one of the show's producers and art directors, Bob Boyle. In an interview, Steve Marmel described the character as having "Bob's head, a wolf's teeth and Frankenstein's body."[2]
Baby Face Boyle is one of the very few ghosts who does not make a cameo in "Phantom Planet" turning Earth intangible.
References