We're Getting Mutants in the MCU - The Loop
Play Sound
Behemoth is a giant monster ghost, and the guard of the Skeleton Key.
History
Behemoth first appeared in "The Million Dollar Ghost." At the beginning of the episode, Vlad tried to gain the Skeleton Key, however before he could, Behemoth appeared and the two battled. Vlad managed to gain the upper hand and he and his duplicates ensnared Behemoth. It looked like he was going to win when Behemoth managed to break free and knocked Vlad and his Duplicates back out of the Ghost Zone. Vlad got up and the two-faced each other, ready to continue fighting, when Vlad's "Change the Ecto-Filtrator" alarm started going off. Behemoth left, shortly before the portal exploded.
At the end of the episode, Vlad returned weakened and injured by accident, and grabbed the key, as he was gloating to himself about his victory Behemoth returned and then ate him, as he was too weak to fight back.
At the beginning of "Reign Storm," Vlad is shown taking the key, implying he managed to finally defeat Behemoth. Behemoth himself appears amongst the large group of ghosts who escape from the Ghost Zone, after Vlad freed Pariah Dark.
Behemoth also appeared in the final episode "Phantom Planet" where he was one of Danny's attackers it stopped Danny until the other ghost caught up with him.
Appearance
Behemoth is a giant, muscular ghost monster with four arms, an ape-like face, red fur, giant sharp fangs, long claws, and grey skin. It also has black eyes with glowing red pupils and red eyebrows. It has a long tail like a snake, it also has backward spiky hair on top of its head, and wears four manacles, one on each arm.
Powers
Behemoth can eat his opponents and possess several ghost powers such as:
Flight/Floating, Invisibility, Intangibility, and Teleportation: Standard ghost powers. He can teleport himself, with a pink mist. He showed this before his first battle with Vlad, blocking him from getting the Skeleton Key.
Supernatural Strength and Durability: Partially due to its size, the Behemoth is an incredibly strong and durable ghost. He is strong enough to break his ecto-rope and knock four Vlads, sending them flying. He is able to take several of Vlad's pink blasts at once while showing only discomfort. He also stopped the Spector Speeder without showing any damage to himself.
Skilled Combatant: It also posses great manual dexterity, able to fight with four arms and tail.
Fire-Breathing: It can also breathe purple fire.
Sightings
Season 1
Season 2
Season 3
Trivia
Behemoth is not the ghost's real name. Vlad called it "Behemoth" near the end of their fight in "The Million Dollar Ghost".
Gallery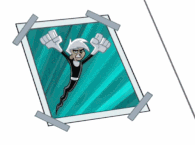 Click here to view the gallery.