Bertrand is Penelope Spectra's loyal servant. He obeys her every command and like Spectra, he is a ghost villain that has the ability of shapeshifting into many forms.
History
Bertrand first appears in "My Brother's Keeper" as the assistant of Casper High's new counselor, Penelope Spectra. He helps Spectra to lower Danny's self-esteem by attacking him and pulling pranks on him. Danny, Sam, and Tucker later figure out that he and Spectra are actually ghosts and that they plan to kill Jazz with the Spirit Sparkler, in order to produce enough misery so they can keep their youthful appearances forever. Danny and his friends foil their plan and capture Bertrand in the Fenton Thermos.
Bertrand reappears in "Doctor's Disorders," under the alias "Dr. Bert Rand." He is the doctor that takes the sick teens to North Mercy Hospital. He locks Danny in the hospital using ghost-proof restraints and leaves him with Spectra. Danny's friends help him escape, and Danny captures Bertrand in the Fenton Thermos once again.
If one looks closely enough, Bertrand can be seen as one of the many ghosts who escapes from the Ghost Zone in "Reign Storm". He can be seen in both his blob form and his short human form.
Bertrand appears in "The Fright Before Christmas" among the group of ghosts who help Danny confront the Ghost Writer and then save Christmas.
Bertrand makes a brief appearance in "Girls' Night Out," giving news about Skulker and Johnny 13 to Ember McLain, Kitty, and Spectra. Kitty uses Bertrand for a demonstration of her kiss that can make men disappear. Once Kitty makes him reappear, he runs away terrified.
Bertrand appears in the series finale, "Phantom Planet." He is among the group of ghosts attacking Danny in the Ghost Zone, in his zombie doctor form. He also contributes to saving the Earth from the Disasteroid, this time in his real ghost form.
Appearance
Even though he can shapeshift, he has standard human and ghost forms. His human form has the appearance of a short man with grey hair, a grey mustache, green eyes, and a butler-like outfit. His ghost form is that of an amorphous green blob with red eyes which is not much bigger than his human form.
Personality
Bertrand is very stoic and often sarcastic about the people he meets, but he can be whiny when he is the only man 'out' of the loop.
He is very sadistic and every bit as cunningly evil and psychologically aggravating as Penelope Spectra, as they happily attempt to kill many people in order to accomplish their plans.
Unlike Spectra, who uses falsely kind words, Bertrand is much more straightforward with his taunts.
Powers and Abilities
Sightings
Season 1
Season 2
Season 3
Trivia
Gallery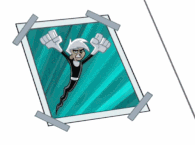 Click here to view the gallery.