Blood Blossoms are blood-red flowers with anti-supernatural properties. They were used in the 1600s as a primitive ghost trap.
History
In "Infinite Realms", John Fentonightingale uses these to create a barrier around Sam and then Danny, to try to "vanquish" Danny. The trio dispels the barrier by having Tucker eat all the blossoms, to his revulsion.
Appearance
Blood Blossoms look like red rosebuds, with a purple-trimmed black stem and leaves. When active, they release a red vapor.
Use and effects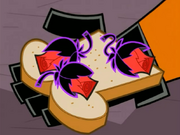 Blood Blossom's red vapor create a natural-like ghost shield that renders ghosts powerless and causes them great physical agony, because it basically burns the ghost. Vlad described them as being "a primitive Specter Deflector." The only way to undo their effects is by removing the blossoms from the ghost's presence. They appear to have no effect on half-ghosts in their human forms, as Vlad walk through their presence without any pain.
Blood Blossoms can also be consumed by humans as food.
Sightings
Season 3
Gallery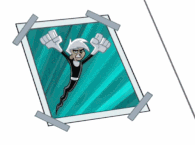 Click here to view the gallery.