Help. Help me. Help.
This page, while not being a stub, still needs some attention.
Brittany is a popular student at Casper High. She is usually seen as a background character in the show, but has some minor screen time, which is mostly walking with her friends, talking to boys, or running from ghost attacks.
History
Season 1
In "Mystery Meat", she is walking among a crowd of other Casper High Students in the hallway.
Season 2
In "Beauty Marked", she participates in the Miss Teenage Happy Princess Beauty Pageant.
Season 3
In "Girls' Night Out", she is seen flirting with Johnny 13 (who had just had a fight with Kitty).
Appearance
She wears a purple crop top and a striped skirt.
Sightings
Season 1
Season 2
Season 3
Gallery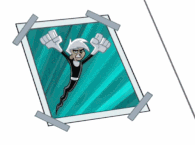 Click here to view the gallery.