Bullet is Walker's second in command and the vice-warden of Walker's Prison.
History
Bullet's only main appearance is in "Public Enemies," where he helps Walker take over Amity Park and pursue Wulf. His loyalty towards Walker is questionable, as he activates Wulf's electrical collar without Walker's authorization, yelling, "Walker isn't here!" to one of his minions.
After Walker exits Dash's body, Bullet takes over the bully. Later, underneath City Hall, he is separated from Dash by Wulf only for Maddie to send him and a ghost cop back into the Ghost Zone.
Bullet was later seen in "Reign Storm" as one of the many ghosts escaping from the Ghost Zone. He's later seen with several of Danny's other major enemies in Skulker's hiding spot, and later he is one of the ghosts who Sam and Tucker recruit to help Danny fight Pariah Dark's soldiers.
He can be seen in "Phantom Planet" as one of the ghosts who help Danny turn the Earth intangible.
Powers and Equipment
Sightings
Season 1
Season 2
Season 3
Trivia
Even though Bullet is Walker's second in command, he only appears in one out of the three episodes where Walker is the main villain.
While his overall appearance is mostly human, Bullet has several animalistic traits. He has a short tail, claws, and what look to be fins on the back of his head.
Gallery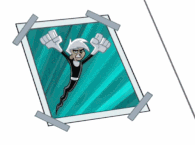 Click here to view the gallery.