The Carnivorous Canyon is an isolated landmark located in the Ghost Zone. It is a gigantic mouth filled with innumerable sharp, spike-like teeth that attempts to eat anything inside it.
History
In "Infinite Realms", after flying over the River of Revulsion, Danny, Sam, and Tucker fly through the Carnivorous Canyon as the Infi-map leads them throughout the Ghost Zone. While Danny describes the canyon, it closes in on them in an attempt to eat them, but they escape.
Appearance
The Carnivorous Canyon's outside has a rocky appearance that curves up to and surrounds its mouth. The interior of the canyon has reddish-pink ridges along its walls, which are irregularly lined with silver spikes. When the canyon closes to eat its prey, its insides shake. When closed, the spikes look like clenched teeth.
Sightings
Season 3
Gallery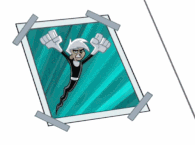 Click here to view the gallery.