The Crystal Leviathan is a super villain from an unknown comic.
History
When battling Freakshow in "Reality Trip," Danny, Sam, and Tucker hide the Reality Gems in various locations. The Gem of Fantasy ended up at the San Diego Comic Fab, hidden by Tucker who planned to attend that summer.
At the convention, the gem is picked up by a person cosplaying as the Crystal Leviathan. By picking up the gem, it becomes activated, as a result increasing its temperature. Surprised by the sudden heat, this cosplayer accidentally passes the gem to another two cosplayers. Shortly after, due to the reality altering properties of the Reality Gem, the cosplayer transforms into the character.
During the battle Danny captures him and ties him to a flag pole. At some point, he breaks free, joining with the two other villains. The trio are blasted by the Guys in White, causing one of them to drop the gem which Danny then places in the Fenton Thermos. This returns the three cosplayers to their human forms.
Appearance
He is a large, pale teal creature with crystal structures protruding from various parts of his body. His only clothing is a pair of black pants that are torn at the bottom, a grey belt with a light grey belt buckle, and black biker gloves. He has red eyes.
Powers and Abilities
Super-human strength
Flight
Sightings
Season 2
Season 3
Gallery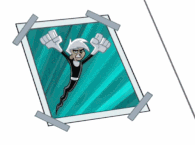 Click here to view the gallery.