Quit pushing me, V-man.
This article is a stub. Please help the Danny Phantom Wiki by expanding it.
The Cybertron Main Computer is the most powerful computer in the world, created by Axion Labs. Its processing unit is floating in space for safety reasons. This computer can be used to control any other computer in the world. It has a ten thousand digit security code.
Processing Unit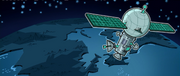 The processing unit of the Cybertron Computer is a satellite, located in the outer space.
Sightings
Season 2
Trivia
The word Cybertron is the name of the homeplanet of the Transformers.
Community content is available under
CC-BY-SA
unless otherwise noted.