Help. Help me. Help.
This page, while not being a stub, still needs some attention.
The Cybertron Main Computer is the most powerful computer in the world, created by Axion Labs. Its processing unit is floating in outer space for safety reasons. This computer can be used to control any other computer in the world. It has a ten thousand digit long security code.
History
In "Flirting With Disaster", Technus attempts to take over the computer and access the processing unit in space, but he is delayed by the firewall. While he is hacking into it, he is still able to use some of the computer's power to control electronics throughout Amity Park.
Processing unit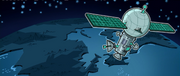 The processing unit of the Cybertron Computer is a satellite, located in the outer space.
Sightings
Season 2
Trivia
"Cybertron" is most likely a reference to Cybertron, the home planet of the Transformers from the series of the same name.