We're Getting Mutants in the MCU - The Loop
Play Sound
Help. Help me. Help.
This page, while not being a stub, still needs some attention, specifically in the History section(s).
The Dairy King was once a businessman who owned a dairy that was so successful he became known as the "Dairy King". He was the former owner of a castle that is now owned by Vlad Masters. Now his ghost haunts the castle, wanting to be left alone. The Dairy King is one of the first nice ghosts Danny meets. The Dairy King is from Wisconsin, speaking with a heavy Wisconsin accent. As such, his favorite phrase is "Don't ya know!"
History
In "Bitter Reunions," the Dairy King was mentioned by Vlad to be roaming around the castle as a ghost. He later appears to Danny who believes that he might attack him but is surprised when he instead frees Danny from the spectral energy neutralizer he's trapped in. After Danny thanks him, he asks why he helped him and the dairy king tells him that not all ghosts are evil, and while he doesn't go help Danny fight Vlad, the two of them part on good terms.
Appearance
The Dairy King Ghost wears a crown with a large piece of cheese under it. He also bears white hair and a mustache, wears a red robe, and holds a scepter with an ice cream cone on top of it.
Personality
Unlike most of the ghosts Danny has fought before, the Dairy King is rather friendly and makes no attempt, much less intends, to harm Danny. Instead, he actually helps Danny by freeing him of his imprisonment.
Powers
Sightings
Season 1
Season 2
Season 3
Trivia
He probably died of old age, given his white-colored hair and mustache.
While Vlad knew of the Dairy King, it is never stated if he knew that his ghost roamed the castle.
It was from him that Danny sees that not all ghosts are bad.
Gallery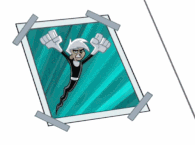 Click here to view the gallery.