Quit pushing me, V-man.
This article is a stub. Please help the Danny Phantom Wiki by expanding it.
Dale is a student at Casper High School.
History
In "One of a Kind", Dale pauses while walking by with Dash to admire Skulker's "high-quality bullying" of Mikey, stuck to the wall with ectoplasm.
In "Splitting Images", he and another student take the hat of a band class member and play catch with it. However, Poindexter smacks him in the face with a locker door in retaliation of his bullying, and he later recounts this to his friends at lunch.
Appearance
Like the other jocks, Dale is fairly tall and of stocky build. He has close-cropped black hair and teal eyes.
Sightings
Season 1
Gallery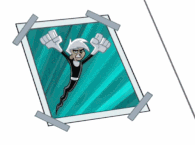 Click here to view the gallery.