Help. Help me. Help.
This page, while not being a stub, still needs some attention.
Damon Gray is Valerie's father and an employee of Axion Labs.
History
Season 1
He formerly worked in Axion's R&D division, where he created a "foolproof" security system for the lab. Unfortunately, it wasn't foolproof against ghosts, as they can walk through walls. After a ghost break-in, Damon was demoted to security guard. This caused his daughter Valerie to begin holding a personal grudge against ghosts, Danny Phantom in particular, whom she blamed him for all the misfortune she and her father had suffered.[1]
Season 2
In "Reign Storm," Valerie's ghost hunter identity was exposed to Damon (by Danny, no less). After this, Damon tried to forbid his daughter from battling ghosts, as well as using weapons in the house, but Valerie tried to convince him that she needs to do it.
Damon was later reinstated back his old job in R&D following Axion's corporate takeover by Vladco.[2] By this time he was aware of Danny's and Valerie's blooming relationship. Although he knew about Valerie's ghost hunting activities, he approached Danny asking him to keep his family's "ghost weirdness" away from Valerie. Regardless of the Fentons' ghost obsession, he approved of Valerie dating Danny.
In "The Ultimate Enemy," Damon is seen in the future Amity Park with an eye patch and a missing left arm. He and Valerie led the city's anti-ghost defenses and were headquartered in the remains of Fenton Works until Dark Danny destroyed it.
In "D-Stabilized," he briefly appears asleep in a chair in the apartment holding a book while Valerie flies by looking for Dani.
Sightings
Season 1
Season 2
Season 3
Gallery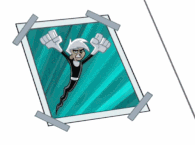 Click here to view the gallery.
References