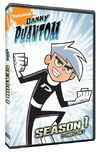 Danny Phantom: Season 1 is a DVD that contains all episodes from Season 1 of Danny Phantom.
Official Summaries
Amazon.com Summary
This is the official summary from the back of the DVD: It's a scary good time with the complete first season of Danny Phantom! Cheer Danny on as he battles the school Lunch Lady who transforms into a 50-foot pile of mystery meat, help him stop technological ghost master Technus from taking over the world's computers, and enter the ghost zone with Danny on his quest to...rescue a package? It's a season full of out-of-this-wor​ld adventure at your fingertips!
Shout Factory Summary
This is the official summary from the back of the DVD: And you thought you had it tough in high school! Meet Danny Fenton, an ordinary teen with extraordinary powers. After a freak accident in his ghost-hunting parents' lab, Danny can transform into Danny Phantom, ghost and ghost-hunter. With his best friends Tucker and Sam along for the adventures, it's nonstop, out-of-this-world ghostly action! All 20 episodes from Season 1 are here!
Episodes
Disc 1
Disc 2
Disc 3
Disc 4
Trivia
In early versions of the DVD, it contained only 13 half episodes of the first season.
Community content is available under
CC-BY-SA
unless otherwise noted.