We're Getting Mutants in the MCU - The Loop
Play Sound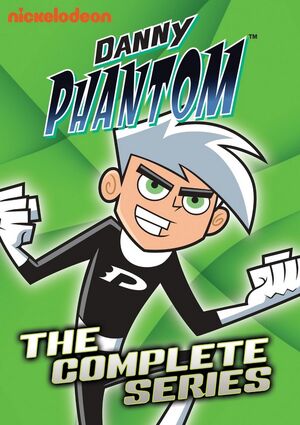 Danny Phantom: The Complete Series is a DVD set containing all 53 episodes of Danny Phantom which was released by Shout! Factory on January 28, 2014. This DVD set is mainly a re-packaging of Seasons 1 and 2 (with the Season 2 discs condensed from four discs to three), and Season 3, which still has yet to be released individually by Shout! Factory.
Discs 1-4, are the same discs used on the Season 1 DVD set, while Discs 6 & 7 are the same discs from the Season 2 Part 2 set, and Discs 8 & 9 are the same discs that were used for the individual Season 3 set. Disc 5 is a slightly modified version of the first disc from the Season 2 Part 1 set, containing all the episode from that disc along with "Pirate Radio" (which was on the second disc of Season 2 Part 1). Confusingly, the three discs that make up Season 2 on this set all still have their original labels from the individual releases, even despite Disc 5 being different from the earlier release.
Contents
Disc 1:

"Mystery Meat"
"One of a Kind"
"Parental Bonding"
"Attack of the Killer Garage Sale"
"Splitting Images"


Disc 2:

"What You Want"
"Bitter Reunions"
"Prisoners of Love"
"My Brother's Keeper"
"Shades of Gray"


Disc 3:

"Fanning the Flames"
"Teacher of the Year"
"13"
"Public Enemies"
"Fright Night"


Disc 4:

"Maternal Instincts"
"Lucky in Love"
"Life Lessons"
"The Million Dollar Ghost"
"Control Freaks"


Disc 5:

"Reign Storm"
"Doctor's Disorders"
"Identity Crisis"
"Fenton Menace"
"Pirate Radio"

Disc 6:

"Memory Blank"
"The Ultimate Enemy"
"The Fright Before Christmas"
"Secret Weapons"
"Flirting With Disaster"
"Micro-Management"


Disc 7:

"Beauty Marked"
"King Tuck"
"Masters of All Time"
"Reality Trip"
"Double Cross My Heart"
"Kindred Spirits"


Disc 8:

"Eye for an Eye"
"Infinite Realms"
"Girls' Night Out!"
"Torrent of Terror!"
"Forever Phantom"
"Urban Jungle"


Disc 9:

"Livin' Large"
"Boxed Up Fury!"
"Frightmare"
"Claw of the Wild!"
"D-Stabilized"
"Phantom Planet"