Quit pushing me, V-man.
This article is a stub. Please help the Danny Phantom Wiki by expanding it.
Several Danny Phantom-themed food products were sold in the 2000s.
Captain Crunch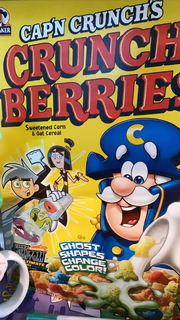 "Captain Crunch" cereal has ghost shapes that change color.
Kid Cuisine
Danny Phantom Kid Cuisine is a meal pack produced by Kid Cuisine.
Description
It is a "Kid Cuisine" lunch pack with ghost-shaped chicken nuggets and promoting "Danny Phantom Video Now" products.
Popsicle
The Danny Phantom popsicle is a Danny Phantom-themed water-based frozen snack produced by the Popsicle company.
Description
It is a "Popsicle" version of Danny. It has a blue raspberry, strawberry, and lemon ice of his face. It has green gumball eyes and is of his ghost form.