Help. Help me. Help.
This page, while not being a stub, still needs some attention.
Various Danny Phantom toys have been produced over the years, though the overwhelming majority of toys were produced in the mid-2000s. Two toys of the titular Danny Phantom were sold in 2020.
Figurines
Recent figurines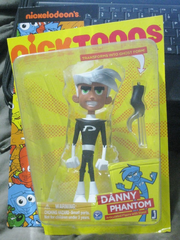 The articulated Danny Phantom figure is currently in stock at certain stores, such as Target. It features articulated limbs and interchangeable legs and ghost tail.
The Funko POP! Animation: Danny Phantom - Danny figure is a 2020 New York Comic Con shared exclusive that was sold in limited quantities at certain Target stores. It was released on October 8, 2020 and retailed for $14.99 USD.
Other figurines