Help. Help me. Help.
This page, while not being a stub, still needs some attention.
The Diner is a small restaurant located in Amity Park.
History
In "Flirting With Disaster," Danny and Valerie go to the Diner during a date. While they eat, Technus creates a power outage, causing the Diner's lights to go out and an employee to bring two candles to their table, thus setting a more romantic mood.
Appearance
The Diner is a small, metal rectangular building with a parking lot in front of it. It has a door on its left end and three square windows on its face. On top of its roof is a "Diner" sign in pink neon letters with a clock above it that has a fork and spoon for hands.
Inside, the Diner has individual booths for customers with red seats, silver tables, and lights hanging above. The windows have orange blinds.
Sightings
Season 1
Season 2
Trivia
The Diner's menu includes french-fries, which Danny and Valerie split a serving of during their date.
Gallery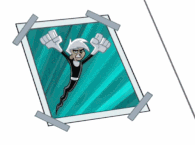 Click here to view the gallery.