Help. Help me. Help.
This page, while not being a stub, still needs some attention.

The Emergency Ops Center, or simply Ops Center, is an invention created by Fenton Works. It is a special observatory built on the roof of the Fentons' house.
Access
The Ops Center can be access in multiple ways.
Through a door on the roof.
Through a secret elevator going from the master bedroom to inside the center's fridge.
Appearance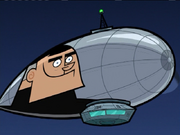 The Ops Center is normally a large structure on top of Fenton Works. Inside, there are a multitude of weapons and supplies.
In especially dangerous emergencies, the Ops Center can detach itself from the roof and turn into a blimp by pressing a button hidden in the fridge, one that is easily missed if not for the "emergency ham" which is next to the button (put there so Jack wouldn't miss it as the ham is the one place that Jack immediately goes to every time he visits the ops center).
A second button under the ham itself streamlines the Ops Center into an ultrafast jet. On a humorous note, the Ops Center also has an autopilot which is an inflatable Jack Fenton figure (the Auto-Jack).
The Ops Center, in jet form, was destroyed in "Reality Trip" when the Guys in White bombed it at the Florida Space Center.
Equipment
Broadcast system
Fridge
Guest bedroom
Shield--In its blimp form, the Ops Center has a shield that lines the base of the compartment that holds people.
Weapon storage lockers
Sightings
Season 2
Season 3
Gallery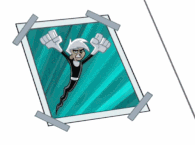 Click here to view the gallery.
Trivia
In several episodes, it has been mentioned that the "Emergency Ham" has gone bad and needs to be changed, but Jack lets no one touch it. Tucker is one of those who has mentioned this.
The Ops Center has an "Auto-Jack", a button that inflates a balloon that looks like Jack Fenton that can fly and control the blimp.