We're Getting Mutants in the MCU - The Loop
Play Sound
Fenton or Phantom?
This Fenton Ghost Peeler is a candidate to be renamed to Portable Fenton Ghost Peeler. Please discuss about this in at Category talk:Candidates for renaming and an admin will get to renaming it as soon as they can.
The Fenton Ghost Peeler is an invention created by Fenton Works. It is a mechanical suit that "peels ghosts apart, atom by atom." Its laser can be used to injure ghosts and strip away ghostly disguises.
Description
The main piece of the Ghost Peeler resembles a hand-held blaster. When activated the Peeler unfolds to surround the user with body armor, a helmet, and a larger blaster. The main piece acts as a control for the activated device, but it does not have any weapons capabilities when folded up.
The Peeler strips away the target layer-by-layer, and is capable of weakening ghosts and causing minor damage to humans.[1] Ghosts are stripped of their disguise, and any energy or abilities associated with the layers. For humans, it strips their outer clothing, disintegrating everything but undergarments.
History
Jazz Fenton is the character who uses this equipment the most.
First introduced in "My Brother's Keeper," Jack introduces the newest Fenton invention the Fenton Ghost Peeler that peels a ghost apart atom by atom. Jazz later used the newly invented Ghost Peeler to weaken Spectra to help Danny defeat her.
In "The Million Dollar Ghost" Jack arms himself with the Fenton Ghost Peeler to save his kids from the ghosts supposedly at Casper High School. Jack attacks Mr. Lancer, who is unconvincingly dressed as a ghost, resulting in Mr. Lancer being stripped to his boxers. Later, Jack pushes a button on the Peeler and it sprays a glob of ectoplasm onto his face.
In "The Ultimate Enemy," Jazz uses it to reveal Dark Danny's true form during the confrontation at the Nasty Burger.
In "Girls' Night Out", Sam uses the Fenton Peeler to fight Kitty, Ember, and Spectra.
Known users
Sightings
Season 1
Season 2
Season 3
Gallery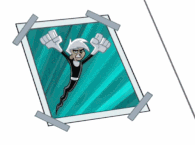 Click here to view the gallery.
Trivia
References