We're Getting Mutants in the MCU - The Loop
Play Sound
Help. Help me. Help.
This page, while not being a stub, still needs some attention.
The Fenton Ghost Weasel is an invention created by Fenton Works. It is a vacuum device created by Jack Fenton designed to "collect ambient ghost energy and shoot it into the Ghost Zone." At first it acts as a regular vacuum, but is later modified to only capture ghosts. It functions similarly to the Fenton Thermos, albeit a little larger and less space on the inside.
History
Main article: List of Fenton Works gadgets
First introduced in "Attack of the Killer Garage Sale," Jack tests out his new invention in the lab. The device works as a regular vacuum, not specifically for ghosts, and sucks in papers and tech all over the lab, including a Fenton Thermos which jams the machine. Danny reverses the Ghost Weasel, causing the Fenton Thermos to shoot out and open the portal, releasing Technus.
In "The Million Dollar Ghost" Maddie uses the Fenton Ghost Weasel to capture Danny Phantom while he is trying to be captured (harmlessly) by Jack. Jack keeps Danny trapped in the Fenton Ghost Weasel, dragging it along by the nozzle, until Danny convinces Jack to release him while they are trapped by Plasmius.
In "Masters of All Time," Maddie uses her own version of the Ghost Weasel in the alternate timeline and calls it the "Maddie Weasel."
Appearance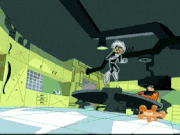 The Fenton Ghost Weasel is both visually and functionally similar to a vacuum. The nozzle that either sucks in or releases items from the main tank, is connected to said tank with a hose. The tank has many buttons, several green (possibly ectoplasm-filled) attachments, a gauge, a red lightbulb, and forward and reverse buttons.
Sightings
Season 1
Season 2
Gallery
See: Fenton Works gadgets gallery
Trivia
The Ghost Weasel works similarly to the Poltergust 3000 and 5000 from the Luigi's Mansion videogame series, in that they inhale and contain.