We're Getting Mutants in the MCU - The Loop
Play Sound
Help. Help me. Help.
This page, while not being a stub, still needs some attention.
The Fenton Portal is an invention created by Fenton Works. It is one of the few artificial portals to the Ghost Zone.
History
Located in the lab in the basement of Fenton Works, the portal was the Fentons' second attempt at creating a portal, the first being the proto-portal.[1] It did not work immediately after being plugged in because it was not yet turned on. During its creation, the on/off switch was placed inside the portal (later on an outer controller was installed). Because of this, a curious Danny accidentally activated the portal while exploring the inside it, causing the accident that gave him his ghost powers.[2]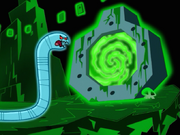 The portal has been modified and upgraded over the years. The portal is able to be opened from both sides (Earth and the Ghost Zone), allowing ghosts to enter Amity Park at will. Jack installed a fingerprint scanner, programmed to only allow Fenton family members to open the portal.[3] However this was removed at some point and later replaced with a manual lock. [4]
This portal was destroyed by Danny during the events of "Phantom Planet." In the alternate future seen in "The Ultimate Enemy," this portal was destroyed by Dark Danny.
Features
Most of the modifications are seen for only one episode.
The ecto-filtrator is a key part of an artificially created ghost portal. The filtrator itself is a small glass vial which appears to act as a collection unit for ectoplasm and is extremely volatile if not replaced twice a year.[5] The only piece that needs changing is the individual vial itself.
The filtrator is fitted into a larger control unit that likely serves as the filtering technology, with the filtrator as the collection unit. While there is no standard design, all units are equipped with a detachable filtrator vial, a gauge to display the vial's fullness, and an alarm system.
In order to change the filtrator on the Fenton Portal, one must adjust settings on the control unit and enter a code in order to release the vial.
Appearance
It is an octagonal device built into the wall of Fenton Works' lab. The portal itself is surrounded by thick metal beams. The metal doors that close off the portal are striped yellow and black.
Sightings
Season 1
Season 2
Season 3
Trivia
References