Quit pushing me, V-man.
This article is a stub. Please help the Danny Phantom Wiki by expanding it.
Fenton Works is a company owned by Jack and Maddie Fenton, located in the Fenton family's house.
The large chamber on the roof is the Emergency Ops Center where ghost operations are carried out. The Emergency Ops Center houses a ghost shield and the Fenton Blimp. The satellite receivers of the Ops Center are able to detect any spectral anomalies within Amity Park.
The Fenton Works Lab, located in the basement, contains the Fentons' ghost portal, which provides Danny and his friends with access to the Ghost Zone.
In "The Million Dollar Ghost," it's revealed that Fenton Works has a weapons vault (with no handle on the inside), which Maddie and Jazz get trapped in. In "Kindred Spirits" there is a pool that opens when the Specter Speeder comes through.
The entire building is fitted with hidden turrets and other ghost defenses that when activated, will pop out of the walls and ceiling and automatically attack anything using ectoplasmic energy. However, these defenses can be a double-edged sword, since it will target humans using ecto-weapons as well as ghosts.
Gallery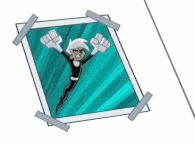 Click here to view the gallery.
See also