Help. Help me. Help.
This page, while not being a stub, still needs some attention.
The Fenton Works Lab is a laboratory located on the basement floor of Fenton Works. The lab is where Jack and Maddie primarily work as ghost hunters and where they store most of their experiments and equipment.
The Fenton Portal is located on the far wall of the lab, and is where Danny became a half-ghost and got his powers.
History
The Fenton Works' Lab was originally used by Jack and Maddie Fenton as their headquarters.
Access
The lab can be accessed via two ways:
Through a door in the Fenton Works' kitchen and down a flight of stairs
Through the Fenton Portal, if entering from the Ghost Zone.
In addition, the lab is not protected by a ghost shield, so it can be phased into from any side using intangibility.
Known users
Current users
Jack Fenton
Maddie Fenton
Jazz Fenton
Danny Fenton
Former users
Known visitors
Sightings
Season 1
Season 2
Season 3
Gallery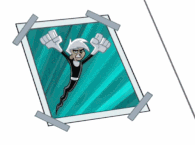 Click here to view the gallery.