Quit pushing me, V-man.
This article is a stub. Please help the Danny Phantom Wiki by expanding it.
Fusion is the ability of two ghosts to combine to create a new ghost.
Description
This power, when activated, allows the user to simultaneously merge two ghosts at once, giving the user access to the powers of both.
To activate this effect, the user must overshadow the ghost whom he or she wishes to combine.
Fusing with another ghost at a time requires the user to have the physical and mental resilience to handle the strain. It also comes with great risk, the ghost user could also potentially "overwhelmed you". Danny had a brief crack in his face after he fuses with Vlad Plasmius.
Known Users
Sightings
Season 1
Season 2
Trivia
So far, Danny Phantom has the most fusion forms: Danny Fenton and Dark Danny.
In "Identity Crisis", Danny Phantom attempted to fuse with Danny Fenton; however, due to overshadowing him instead, he failed at fusing back and achieving a hybrid form.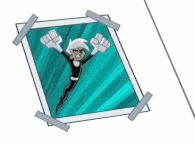 Click here to view the gallery.
Community content is available under
CC-BY-SA
unless otherwise noted.