Genius Magazine is a magazine "for women genius, by women geniuses, and about women geniuses."
History
In an attempt to prove that her parents are not just a "couple of ghost hunting freaks," Jazz sends a letter to Genius Magazine about putting Maddie on the cover of the magazine. They send Connie over to interview Maddie, but Jack and Maddie both still display their devoted love of ghost hunting, much to Jazz's dismay. The interview is interrupted by commotion coming from Danny's room. Connie and Maddie are both curious about what the noise is, knock on Danny's door, only to be promptly kicked out. Connie notes that Danny displays the signs of a true genius: brooding, messy, reclusive. However, she is disappointed that he is not a female.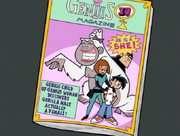 After Danny discovers that Sampson is actually a female, he makes the cover of Genius Magazine, along with Maddie and Jack.
Employees
Sightings
Season 1