This page is for Ghost Gauntlets, Vlad's alternate timeline gauntlets. For the Fenton Works invention, see Fenton Ghost Gloves.
The Ghost Gauntlets are an anti-ghost device presumably developed by Vladco. They can be used to separate a ghostly being or object from a human's body.
History
In "The Ultimate Enemy," in the alternate timeline, Vlad somehow obtain the Fenton Ghost Gloves from episode 5 and changed to the Ghost Gauntlets. It's not shown how Vlad managed to get them. He uses these to separate Danny's ghost and human halves.
Then, Danny's ghost half filled with all of his negative emotions steals them, tears out Vlad's ghost half, and fuses with it, becoming Dark Danny. Vlad later uses them to remove a time medallion from Danny's body that Dark Danny had made permanently intangible.
Danny later used them against his final battle with Dark Danny.
Appearance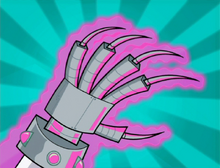 They look like large metallic gloves. When activated, claws extend from the fingers and the gloves glow either pink or green.
Sightings
Season 2
Gallery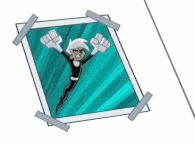 Click here to view the gallery.
Community content is available under
CC-BY-SA
unless otherwise noted.