A ghost portal is a gateway between Earth and the Ghost Zone.
Description
The ghost portals appear as discs of energy extending sideways. A portal can be created by a large output of ghostly energy, such as the amplified energy extracted from the ecto-filtrator.
As physical gateways, ghost portals provide humans with a direct passage into the Ghost Zone. The use of ghost portals also allows individuals to obtain their intangible abilities in the Ghost Zone, as well as to bring material objects with them.
Artificial ghost portals
Natural ghost portals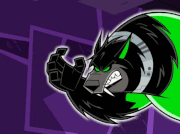 There are numerous natural portals between the Ghost Zone and Earth that lead to various locations and time periods, such as the Salem witch trials, the Bermuda Triangle, and the rings of Saturn. These portals can be located through the use of the Infi-map.[5]
Some ghosts, such as Dark Danny, Wulf, and Clockwork, have the power to create ghost portals at will.
See also
References