Not to be confused with: Shapeshifting and Transformation.
Going Ghost
is the ability of
half-ghosts
to transform between
human
and
ghost
at will.
Capabilities
Rings extend from the center of the user's body and sweep in opposite directions as the body transforms from human to ghost.
The coloration of these rings varies from user to user; for example, Danny Phantom's rings are blue-white in color, while Vlad Plasmius's are black and white.
The rings are typically oriented so that they sweep vertically across the user's body, though they can take on other orientations.
Applications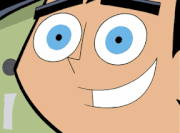 Eye/Semi-Transformation (Ghost Form's Eyes in Human Form): Danny has occasionally, when feeling greatly angered or annoyed, made his eyes glow green in human form (most likely subconsciously, although he once did it willingly when conceiving a devilish idea in "Parental Bonding").

Dark Danny is also shown to have this ability while disguising as his past-self in "The Ultimate Enemy," though his eyes turn red when he does it.
Known Users
Community content is available under
CC-BY-SA
unless otherwise noted.