We're Getting Mutants in the MCU - The Loop
Play Sound
Hotep RA is the mummy-like spirit of an ancient minion of King Duulaman, an Egyptian pharaoh who inexplicably looked highly similar to Tucker Foley. He was released from his eternal sleep when Tucker looked into the mirror at the front of Ra's sarcophagus.
History
Hotep RA was, during his life, the servant of Pharaoh Duulaman. The strength of his loyalty should be questioned though, as he tried to take over the world through Tucker despite believing (at least to some extent) that Tucker was Duulaman reincarnated. At some point he died and was possibly mummified after his death.
In the present day, his ghost was awakened when Tucker looked into the mirror on his sarcophagus. After this he acted as Tucker's servant, helping him out and catering to his every whim while at the same time plotting against him. He gave Tucker Duulaman's staff, a weapon of great power which increased Tucker's ego and stifled his conscience and common sense. After Tucker sent everyone to a representation of ancient Egypt and forced them to work, Hotep RA continued to assist Tucker, yet still plotted to dethrone him.
After Danny managed to get Tucker back to his normal self, Hotep RA grabbed the staff and brought the sphinx to life. During the battle Sam and Paulina grabbed onto one of his loose bandages and unwinding him, but he manage to reform. When Tucker took control of the sphinx, he tried to kill Danny, only to be defeated and chased off by the sphinx.
Hotep RA's final appearance is in the series finale, "Phantom Planet". He is one of the many ghosts who helps Danny and Skulker turn the entire planet intangible so that an asteroid can pass through it.
Powers and Abilities
Hotep RA was shown to be quite a powerful and formidable ghost being able to outmatch Danny with just his standard ghost powers which are:
Intangibility, Invisibility, Flight, and Spectral Body Manipulation: Standard ghost powers. His bandages can unravel, allowing him to appear out of the ground and assume his form using sand or earth, fit inside a locker with no apparent problems, manipulate the pieces of his clothing that hung off him like they were extra arms or tentacles, transform into a small sandstorm (a cyclone of sand) or a plague of locusts, store objects inside his bandages and summon them out, and stretch/elongate his limbs to incredible lengths, but too many causes only his skeleton to be left and disintegrate into dust. However, Hotep RA can reform back using sand, making him one of the small number of ghost who can reconstruct himself.

Sand-Tornado: Similar to Vlad's but smaller and on a lesser scale, Hotep RA is able to spin at great speeds or turn himself into a small cyclone of sand that can suck in his enemies when he charges it right at them. Hotep RA used this during his first battle with Danny, where the half ghost spit sand out of his mouth after he was thrown to the ground.
Supernatural strength and durability: Standard ghost powers. Hotep RA is nearly strong as Danny, being able to knock him down to the ground and is very durable to withstand hits from Danny.
Sightings
Season 2
Season 3
Trivia
Hotep RA is one of the few evil ghosts that have never been seen being caught in the Fenton Thermos.
His name may be a reference to both the Egyptian word Hotep, meaning "to be at peace", which is ironic, considering that he is a mummy; and Ra, which is the name of the Egyptian god of the sun.

His name could also be taken from a powerful ancient Egyptian priest, named Rahotep.

His attack move using his bandages spread out in a fan around him is a reference to Doc-Oc from the Marvel comics. [1]
Gallery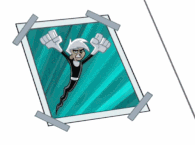 Click here to view the gallery.
References