"AMITY PARK CITY LIMITS - YOU'RE SAFE FROM SPELLS NOW THAT YOU'RE AT LAKE EERIE"

— Lake Eerie's welcome sign[1]
Lake Eerie is the lake where Jack takes Danny to go fishing and encounters Skulker and a large red monster in "Girls' Night Out."
It is not known whether or not it mimics the real Lake Erie. Lake Eerie also appears in the episode "Claw of the Wild" when Danny, his classmates, and two of his teachers go to a nearby summer camp, Camp Skull and Crossbones.
History
In "Girls' Night Out," meanwhile, Jack and Danny's father-son bonding time (during which Jack asks if Danny has a crush on Sam) turns into a disaster when Danny spots Skulker coming his way.
Using creative methods to distract his father so that he can turn ghost whenever Skulker appears, he manages to evade him long enough to spend quality time with his father.
Eventually, Skulker sends out a giant red monster that successfully catches Danny in its mouth. Danny screams for his father's help as the monster gulps him down. Danny slides down the throat and lands in the monster's stomach and passes out.
An angry Jack retaliates and defeats the monster. Once defeated the monster regurgitates Danny, and he watches with an impressed look as Jack defeats Skulker.
In "Claw of the Wild," during canoeing, mist covers the lake, giving leeway for Danny to go ghost and investigate while Tetslaff's team, Sam wanders off alone when she hears noises from behind a bush, eventually countering a Bigfoot type ghost monster.
Danny quickly flies and delivers the goods. At the same time, every single person, including Tucker are surrounded by numerous Ghost Cops and kidnapped.
Sightings
Season 3
Gallery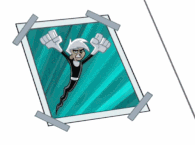 Click here to view the gallery.
References