Help. Help me. Help.
This page, while not being a stub, still needs some attention.
This page is for Maddie the cat, Vlad Masters' cat. For other uses, see Maddie (disambiguation).
Maddie is Vlad's cat named after his love interest, Maddie Fenton.
History
In "Maternal Instinct", Danny tells Vlad that he should get a "lonely-guy cat," which Vlad furiously rejects. Despite this, Vlad does eventually get a cat.
In "Infinite Realms", Vlad plays chess with Maddie out of boredom, then talks to her and pretends that she thought of the idea for him to watch TV to cure his boredom. He then tells her, "If anyone asks, you're my sister's cat."
In "Torrent of Terror", a blast from the spectral barometer that Vlad is using on Vortex ricochets and hits Maddie, causing her fur to stand on end.
In "D-Stabilized", when Vlad discovers that Dani is in Elmerton and making her way towards Amity Park, Maddie suggests he uses Valerie to capture Dani by putting her paw on Valerie's intercom button on his desk.
It is unknown what became of Maddie after Vlad was left stranded in space in "Phantom Planet".
Appearance
Maddie is a white cat with orange eyes. Her breed varies between episodes from a domestic long hair to a Persian.
Sightings
Season 3
Gallery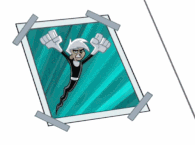 Click here to view the gallery.