"Oh no!"
This article does not have any images. Please help the Danny Phantom Wiki by uploading one! Please remember to remove this template once an image has been uploaded for this article.
Help. Help me. Help.
This page, while not being a stub, still needs some attention.
The Manson Residence is where Sam, her parents, Jeremy and Pamela Manson and her grandmother, live.
History
In "Parental Bonding", Sam's room is seen briefly in the background while she is video chatting with Danny and Tucker. And again when Tucker picks up Sam for the dance.
In "Attack of the Killer Garage Sale", Sam invites Danny and Tucker to her house for movie night. This was the first time she ever invited them over.
In "Life Lessons", Sam takes the flour sack from Tucker and dresses it up while in her bedroom.
In "Control Freaks", Sam's parents wake her up and attempt to make her wear frilly clothing. The Mansons are having breakfast and watching the news when Danny walks in with CDs for Sam.
In "The Fright Before Christmas", Danny flies to Sam's house to escape the Ghost Writer's control. Shortly thereafter the Ghost Writer animates a dreidel in their house to act as a focal point for all of the animation rays.
In "Flirting With Disaster", Sam's room is seen briefly in the background while she is video chatting with Danny and Tucker.
In "Double Cross My Heart", Gregor, Sam and Tucker watch movies in the basement movie theater.
In "Reality Trip", Mr. and Mrs. Manson are briefly seen in their home in Danny's flashback to when he "convinced" them to let Sam join the Fentons on their summer vacation. And it was later mentioned when Mr. and Mrs. Manson approach Jack and Maddie about Danny being revealed as Phantom, saying that they were watching television at that time.
In "Torrent of Terror", Sam and her parents watch the fight between Danny and Vortex on their basement TV.
In "Forever Phantom", Sam and Tucker are waiting in her bedroom while trying to contact Danny. Jack destroys Sam's bedroom wall while entering and exiting the room.
In "Frightmare", Danny takes Tucker to Sam's bedroom to wake her up from Nocturn's sleep inducement.
In "Phantom Planet", Sam watches the news of the Disasteroid on the TV in her room.
Rooms
Basement
Kitchen
Sam's bedroom
Sightings
Season 1
Season 2
Season 3
Gallery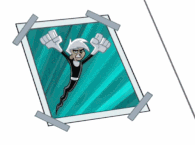 Click here to view the gallery.