Help. Help me. Help.
This page, while not being a stub, still needs some attention.
Mikey is a nerd student at Casper High School. Like other unpopular kids at school, he is one of the students who are often bullied by Dash Baxter and the other jocks at the school.
History
In "One of a Kind," Skulker blasts Mikey and attaches him to a wall with ectoplasm.
In "Lucky in Love," he is assigned to Danny as his "personal nerd" to do Danny's homework since Paulina dating him meant Danny was enlisted in the popular kids' club. When saying hello to Danny, Dash told Mikey not to talk to him because he was "not nearly as popular as him." After Danny's popularity status is revoked and Paulina is no longer dating him, Mikey is no longer assigned to him. He sasses Tucker as he walks by at the end of the episode, claiming that Tucker was "not nearly as popular as [he is]."
In "Memory Blank," he is one of several smaller nerds being shoved into a locker by Dash and Kwan and wishes that they could understand what it feels like being treated this way (being bullied), and so Desiree grants his wish. He transforms into a ghostly wolf-like monster and shoves both Dash and Kwan into the locker until they finally beg for mercy, at which point, Mikey returns to normal, slams the locker shut, and yells, "I rock!" before sprinting away.
In "Reign Storm," Mikey plays "nerd poker" on the table that Danny and Valerie hide under.
In "Masters of All Time," he films Maddie and Jack dancing dressed in their '80s clothes, and says his footage is "going straight to the Internet." Then, at the end of the episode, he films Danny dancing with his parents, but this time mentions that "this one's going on pay-per-view."
In "Phantom Planet," he is seen with other students paying Masters' Blasters for defeating the meat monster that was attacking the school.
Powers and Abilities
Sightings
Season 1
Season 2
Season 3
Gallery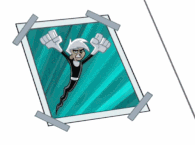 Click here to view the gallery.