Help. Help me. Help.
This page, while not being a stub, still needs some attention, specifically in the History section(s).
Mr. Lancer is a teacher and vice-principal at Casper High School.
History
During his own years at high school, he was a male cheerleader. Now he is a teacher and vice-principal at Danny's school, Casper High. He teaches various subjects, such as English, math, history, and science. He is also a detention supervisor.
Appearance
He is an overweight, bald, middle-aged man with green eyes and a goatee and most often seen wearing a light blue short-sleeved dress shirt with a black tie, gray slacks, and black shoes.
Personality
Mr. Lancer is first portrayed as a disciplinary enforcer within Casper High, but shows favoritism towards the athletes and Jazz while liberally doling out detentions to Danny and his friends.
Later on, he is depicted as a devoted educator who takes his job seriously and cares for his students.[1][2]
However, he eventually becomes more fair and forgiving.[3] Although he is described as an English teacher, Mr. Lancer has appeared teaching a variety of subjects, including astronomy[4], and the blackboard behind him is often covered in various math equations.
He is portrayed as a bit of a wimp, although he occasionally has moments of bravery, especially when it comes to his students' safety. He often uses the titles of books as exclamations ("Moby-Dick!", "Gulliver's Travels!", "Lord of the Flies!", "War of the Worlds!", etc.)
Literature referenced
Sightings
Season 1
Season 2
Season 3
Trivia
Gallery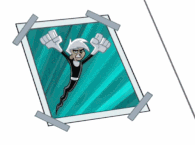 Click here to view the gallery.
References