We're Getting Mutants in the MCU - The Loop
Play Sound
Help. Help me. Help.
This page, while not being a stub, still needs some attention, specifically in the History section(s).
Mr. Lancer is a teacher and vice-principal at Casper High School.
History
During his own years at high school, he was a male cheerleader. Now he is a teacher and vice-principal at Danny's school, Casper High. He teaches various subjects, such as English, math, history, and science. He is also a detention supervisor.
Appearance
He is an overweight, bald, middle-aged man with green eyes and a goatee and most often seen wearing a light blue short-sleeved dress shirt with a black tie, gray slacks, and black shoes.
Personality
Mr. Lancer is first portrayed as a disciplinary enforcer within Casper High, but shows favoritism towards the athletes and Jazz while liberally doling out detentions to Danny and his friends.
Later on, he is depicted as a devoted educator who takes his job seriously and cares for his students.[1][2]
However, he eventually becomes more fair and forgiving.[3] Although he is described as an English teacher, Mr. Lancer has appeared teaching a variety of subjects, including astronomy[4], and the blackboard behind him is often covered in various math equations.
He is portrayed as a bit of a wimp, although he occasionally has moments of bravery, especially when it comes to his students' safety. He often uses the titles of books as exclamations ("Moby-Dick!", "Gulliver's Travels!", "Lord of the Flies!", "War of the Worlds!", etc.)
Literature referenced
Sightings
Season 1
Season 2
Season 3
Trivia
Mr. Lancer's name comes from a coffee shop located down the street from Nickelodeon's headquarters in Burbank, CA, called "Lancers."[15]
Mr. Lancer's greatest fear is the sound of fingernails on a chalkboard.[2]
Mr. Lancer secretly plays Doomed, and is apparently very skilled at it. He has beaten Doomed several times, and once defeated Tucker, Danny, and Sam all at once.[16]
Mr. Lancer's first name was never revealed. It's possible that his first initial is L, due to his Doomed avatar featuring a large letter L (similar to Technus' avatar featuring an N).
He likes eating mutton.[1]
Near the end of "Public Enemies," Mr. Lancer exclaims "The Adventures of Huck Finn!" Ron Perlman, who voices Lancer, had previously played the drunk father Pap Finn in the 1993 Disney film adaptation of the Mark Twain novel of the same name.
In "The Ultimate Enemy", unlike the one for Danny's friends and family, Mr. Lancer's gravestone message simply says "Gone".
His license plate is "LNCR".[16]
In order to motivate students, he sometimes uses the excuse that he is so busy teaching that he does not have time to visit his sister. The photo he uses is one of himself in a dress that no one has picked up on yet.[16]
For the first two seasons, Lancer used to be antagonistic to Danny and his friends. However, he became more fair and forgiving as the show went on.
Gallery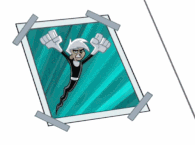 Click here to view the gallery.
References