Quit pushing me, V-man.
This article is a stub. Please help the Danny Phantom Wiki by expanding it.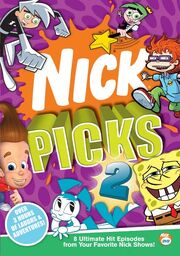 Nick Picks Volume 2 is a Nicktoon crossover DVD release that features one of Danny Phantom, along with select episodes of All Grown Up, The Fairly OddParents, The Adventures of Jimmy Neutron: Boy Genius, SpongeBob SquarePants, My Life as a Teenage Robot, and Rugrats.
Episodes
The Fairly OddParents: The Big Superhero Wish!
All Grown Up!: Interview With a Campfire
SpongeBob SquarePants: I'm With Stupid
SpongeBob SquarePants: SpongeBob Meets the Strangler
My Life as a Teenage Robot: Gridiron Glory
Jimmy Neutron: Sleepless in Retroville
Rugrats: All Growed Up
DVD Menus