Help. Help me. Help.
This page, while not being a stub, still needs some attention.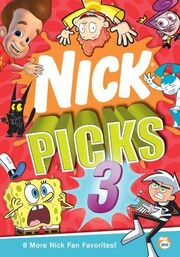 Nick Picks Volume 3 is a Nicktoon compilation DVD release that was released on February 7, 2006.
It features one episode of Danny Phantom, along with select episodes of All Grown Up! Catscratch, The Adventures of Jimmy Neutron: Boy Genius, SpongeBob SquarePants, My Life as a Teenage Robot, and The Fairly OddParents.
Episodes
All Grown Up!: Dude, Where's My Horse?
SpongeBob SquarePants: Fear of a Krabby Patty
Catscratch: Bringing Down The Mouse
Jimmy Neutron: Brobot
My Life as a Teenage Robot: See No Evil
The Fairly OddParents: Hail to The Chief
The Fairly OddParents: Twistory
Trivia
This is the first DVD to feature Catscratch.
DVD Menus