Help. Help me. Help.
This page, while not being a stub, still needs some attention.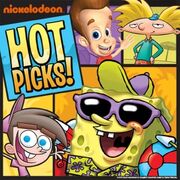 Nickeloeon Hot Picks! is a downloadable digital DVD available on iTunes. It was released in 2009 and contains the episode "Reality Trip" as well as one or two episodes each from five other Nickelodeon shows.
Episodes