"You know our oath: to watch."

The Observants are an ancient group of ghosts who watch over all events, past, present, and future. For matters of import they meet in the Tribunal Headquarters.
History
True to their name, the Observants observe the events of both the human world and the Ghost Zone.
Although they can see everything that has happened and will happen, they have sworn oaths to never interfere with the course of events. This, however, does not stop them from attempting to get others, such as Clockwork, to manipulate these events.
In "The Ultimate Enemy," two Observants tried to get Clockwork to destroy Danny to prevent the rise of Dark Danny.
Clockwork had his own plan, however - rather than destroying Danny, Clockwork gave him a second chance. After the events of the episode, the Observants charged Clockwork with the responsibility for keeping watch over Dark Danny.
In "Torrent of Terror," the weather controlling ghost Vortex was imprisoned by the Observants, who kept him under control with the Spectral Barometer. Vlad Plasmius broke into one of their meetings to steal the Spectral Barometer and take control of Vortex.
Physical Appearance
The Observants are green-skinned ghosts with their most defining features being their one eye on their face and no mouth.
They wear fancy white outfits with black high-collared capes that show their status as Observants.
Powers and Abilities
Intangibility, Invisibility, and Flight: Standard ghost powers. The Observants are always seen floating, never walking.
Teleportation: Two Observants can teleport in and out of Clockwork's lair. Their act of teleportation is that they fade out similar when ghost turn invisible, except we see them when they are invisible.
Temporal Clairvoyance: The Observants possess the ability to see into the past, present, and future. Clockwork notes, however, that compared to his own clairvoyance, they can only see a singular timeline at a time and not all the potential timelines that can be created from altering circumstances. Given that The Observants didn't see Vlad coming in to break Vortex out, it indicating their power is limited.
Sightings
Season 2
Season 3
Gallery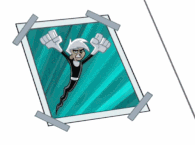 Click here to view the gallery.
Trivia
In the video game Danny Phantom: The Ultimate Enemy, they are referred to as the Observers.
The Observants are similar to the Watchers from the Marvel Comics universe.
The concept of the Observants is similar to the Christian one of spiritual warfare.