Help. Help me. Help.
This page, while not being a stub, still needs some attention, specifically in the History section(s).
Operative K is one of the two main Guys in White agents seen throughout Danny Phantom, alongside Operative O.
History
Operative K first appears in "The Million Dollar Ghost."
Appearance
Operative K has brown skin and dark blue eyes, and is bald. Like all GiW agents, he wears a white suit with a black tie, black gloves and boots, black sunglasses, and an earpiece.
Sightings
Season 1
Season 2
Season 3
Trivia
Gallery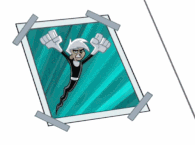 Click here to view the gallery.