Help. Help me. Help.
This page, while not being a stub, still needs some attention, specifically in the History section(s).
Pariah's soldiers are skeleton warriors who make up the army of the Ghost King, Pariah Dark.
History
In "Reign Storm," they fight for and serve under Pariah Dark.
Appearance
They are all green skeleton ghosts with armor and suits that come from many different time periods: Roman, Viking, WWI, and WWII.
Relationships
They have a total loyalty to the Ghost King Pariah Dark and some lower loyalty and obedience to Fright Knight.
Powers
They have the standard ghost powers (flight, invisibility, and intangibility) as well as enhanced strength.
Weaknesses
These ghosts are particular weak and can be easily destroyed by a ghost ray.
Sightings
Season 2
Season 3
Trivia
They are somewhat similar to Nocturn's sleepwalkers: both fall as their masters' servants and soldiers, both are weak to ghost rays and disintegrate when hit by them, and both serve a ghost of great power.
Gallery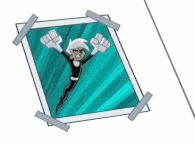 Click here to view the gallery.
Community content is available under
CC-BY-SA
unless otherwise noted.