The
Reality Gauntlet
is a glove which uses the power of the 4 Reality Gems to give the bearer virtual omnipotence and alter the very fabric of reality itself. The gauntlet was used by
Freakshow
during "
Reality Trip
." It was later destroyed by Danny used his ghost ray to do so.
History
Main article: Reality Trip
The Reality Gauntlet only appears in "Reality Trip." The Guys in White originally had possession of the gauntlet and three of its gems, but it was useless without its power source. They allow Freakshow to examine the gauntlet.
Unbeknownst to them, Freakshow had the power source, and uses it to activate the gauntlet and its gems. Freakshow then uses the gauntlet's power to escape.
Freakshow is soon confronted by Danny and his friends. To stop Freakshow, they activate the gauntlet's defense mechanism: by touching a gem and concentrating very hard on a location, the gem instantly teleports out of the gauntlet and to that location, removing its powers from the Reality Gauntlet.
Using this, they render the gauntlet powerless. However, Freakshow kidnaps Danny's and his friends' families and threatens to kill them unless they return the gems within three days. Danny, Sam, and Tucker set off on an adventure all across the country to recover the gems.
At each location, they find the gems causing havoc and have to capture the gems to return everything to normal. They manage to succeed, and return the gems to Freakshow in time.
Freakshow returns the gems to the Reality Gauntlet, finally activating all of its powers. Danny then faces a reality-controlling Freakshow in a final showdown.
With quick thinking, Danny tricks Freakshow and takes away the gauntlet, rendering Freakshow powerless.
After the battle, Danny uses the gauntlet to wipe everyone's memories of the events of the past few days. Danny then destroys the gauntlet.
Gems
The Gauntlet has 4 gems. When the gems are placed in the gauntlet and activated in the correct sequence (form, fantasy, form, life, fantasy, power source), their combine power, giving the wearer total control over all reality. Whoever holds the gauntlet has the same power as the wearing has. The gauntlet has a self-defense mechanism when you touch one of the gems while it is in the gauntlet can teleport the gem out of the gauntlet by simply wishing it away. With the gem out of the gauntlet, the gauntlet loses the power that the gem supplied. The gem's power can be activated by mere touch outside of the gauntlet, but it is only when they are in the gauntlet that they can be properly controlled and rewrite reality. When used by hand they seem to burn the user hand.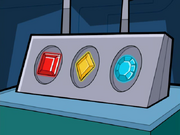 Powers
Weaknesses
Trivia
Community content is available under
CC-BY-SA
unless otherwise noted.