"Unique is good! That's why I'm an ultra recyclo-vegetarian."

Samantha "Sam" Manson is Danny Fenton's closest friend and eventually girlfriend in the series finale. Responsible for the accident in which Danny gains his powers, she is also one of the first few people to know about Danny's ghost identity. She is a self-proclaimed Goth who is fascinated with the subliminal and netherworldly, and is a very outspoken ultra-recyclo-vegetarian.
History
Sam's family is extremely wealthy, being descendants of the great inventor of the deli toothpick cellophane-twirling device. However, she keeps her family's wealth as a secret, only revealing it to her best friends in Attack of the Killer Garage Sale.
Sam has known Tucker and Danny since at least the second grade, as shown in Splitting Images. She is responsible for Danny's accident and designing the "D" emblem on his outfit, which became a permanent change to his costume as of Memory Blank.
During Danny's ghost-hunting adventures, Sam has gotten into her fair share of troubles and adventures, ranging from being turned briefly into a ghost dragon when wearing the Amulet of Aragon when Paulina gave it to Sam, thinking it was hers, to accidentally wishing away Danny Phantom's existence, to nearly being a bride to Prince Aragon and to getting possessed by Undergrowth.
Appearance
See Also: Sam Manson/Clothes
Sam is a young Caucasian girl with violet eyes, and short black hair with a small ponytail at the top and at the back of her head held by a green hair tie. She also wears purple lipstick.
Sam's usual clothing consists of a black choker around her neck, a black top that exposes her midriff with a purple oval in the centre, black striped skirt with a green crosshatch design, purple tights, and black combat boots. She also wears a pair of black bracelets around both of her wrists.
She has also been seen in a wide variety of outfits, ranging from a rocker rebel than a goth of black and purple ball gown to a pink princess dress with hearts, and even one of the orange Fenton Works jumpsuits. In Beauty Marked, she wore fake vampire fangs.
Personality
Sam's personality is less dreary than the stereotypical "goth" persona that is often depicted in media. She can be rational, sarcastic, forceful, bossy, passionate, and strong-willed, but also good-hearted and caring. Based on how she conducts herself, it would be fairer to say that she labels herself a goth more as an outlet for her independence and individuality than as an embrace of how the stereotypical goth is presumed to behave. She isn't spoiled and would rather earn real friends instead of dealing with the popularity and fake friendships that come with wealth.
Out of the three, Sam is usually the most rational and mature, often thinking on a realistic level compared to her friends and pointing out to Danny to focus more on ghost training and hunting. It is clear that she would do anything she could to help her friends during their numerous battles and keep them out of trouble.
As an ultra-recyclo-vegetarian (she doesn't eat anything with a face), Sam is often livid over the wider range of popular materials. In Mystery Meat, she forces her ultra-recyclo-vegetarian diet on the entirety of Casper High School, despite her claims of the importance of individuality.
Sam can be rather hypocritical at times. She advises Danny against using his ghost powers for abusing bullies, but in 'Memory Blank', she suggests that he uses them to scare away people from buying environmentally-threatening trucks.[7] This trait often gets on Danny and Tucker's nerves. Another example is in Double Cross My Heart, when she got angry at Danny for spying on her and Gregor, but had previously done the same thing to him when he was going out with Valerie in Flirting With Disaster.
Additionally, Sam's poor qualities also include not taking responsibility for her actions. No matter how much she is at fault, she never accepts the fact she is responsible, never admits she's wrong and wants everyone to be her "Yes Man." Despite this, she is willing to take the blame for things to cover for Danny.[8]
Relationships
Sam has an often strained relationship with her parents due to their optimistic, colorful personalities opposing, and sometimes oppressing, her darker outlook on life and more rebellious interests.[9] Her mother usually tries to get her to wear clothing that is completely out of her style, such as in Control Freaks and Reign Storm. Sam mentions that she likes messing with her parents, and enjoys their absence as shown in Pirate Radio. In spite of this, she does care about them.
Throughout the TV series, Sam and Danny are best friends who have known each other since childhood. They always spend most of their time together, alongside their other best friend, Tucker. The two frequently quarrel, but in the end, still manage to reconcile and support each other. Sam cares a lot for Danny, and this can be seen in Parental Bonding, when she became so furious at Paulina for using Danny just to end up hurting him, that she became a dragon, (because of the amulet), who tried to attack her. She is willing to stand up for him and doing everything she can in order to keep their friendship in tact. In Memory Blank, after their argument, Sam unknowingly made a wish to Desiree that she wished she had never met him. Unfortunately, her wish was granted by and upon realizing, she regretted it, as she knew that she didn't truly mean it. She tried doing every thing she could to make things right and restore their friendship, even wearing a outfit she hated in order to get his attention.
In certain ways, Sam is actually the most enthusiastic of the three when it comes to Danny's powers and their potential. When he expresses his desire to get rid of his powers and have a normal teen life, she voices her distaste for the idea. When Danny voluntarily gives up his powers in Phantom Planet, Sam tells him that she's disappointed in his wish to be just like everybody else and tells him that she had been proud to be helping him when he was doing something good, refusing to "sit on the sidelines". She also reveals at this time that when Danny was protecting Amity Park, she felt safe knowing that there was someone out there doing the right thing, but with him no longer fighting ghosts, she's not sure what would happen.
She and Danny have always been assumed to be dating by numerous people, such as Dash in 'Mystery Meat', Valerie in Shades of Gray, Paulina in Parental Bonding, Mr. Lancer and Ember in Fanning the Flames, Star in 'Flirting with Disaster', Johnny 13 in Girls' Night Out and even Nocturn in Frightmare. However, they would always deny it, knowing that they weren't actually together.
Despite all these claims, Sam noticeably starts to develop an actual crush on him starting in 'Fanning the Flames', when she longingly stares at him as they fly to the music store. When Danny is under Ember's love spell, she mentions she enjoyed a little bit of the attention that he was giving her, but was not fully able to do so due to the seriousness of the situation. She also admits that even though she may have possibly wanted to be in a relationship with Danny, she didn't want it to be because of the love spell. Even at the end, her crush on him still remains. Her feelings towards him might have been hinted previously in 'Shades of Grey', when she kisses him for the first time, even though she passed it off as a "fake-out-make out".
Tucker was able to pick up Sam's crush on Danny soon enough, and would sometimes hint at the topic such as in Reality Trip and 'Double Cross My Heart'. Danny himself however, was rather still oblivious about her feelings towards him. Sam always had difficulty expressing her crush on him, as shown in Reign Storm, when she couldn't admit to Valerie that she liked Danny as more than a friend.
Her only other intimate interaction with him was "fake-out-make out number two" in Memory Blank which was initiated by Danny in order to create a distraction from his father. In both of the "fake-out-make outs" that they had, the two seemed to enjoy it, although they later become embarrassed by these intimate moments.[10][7]
Sam has definitely shown to express an intense dislike towards other girls that Danny has had a crush on or interacted with. She would always seem to be annoyed and irritated by their presence or even when Danny mentioned them. She was upset that Danny had ditched her and Tucker in order to spend time with Paulina (who was actually being overshadowed by Kitty) in Lucky in Love, or in Flirting With Disaster, where her jealousy had reached its peak as Danny and Valerie briefly dated each other. Her extreme jealousy has known to get the best of her, but she has never been able to open up to him, in fear of ruining or complicating their friendship. In "Double Cross My Heart," she cringes when Tucker asks her if she knew how it felt to like someone she couldn't date. Ironically, Danny asks her this question, because he feels that way about his ghost persona's enemy, Valerie.
The two finally had their first real kiss in the series finale, and finally end up together. Of all of Danny's crushes, Sam is the only one who likes Danny as both Fenton and Phantom, and not just either one of them.
Sam considers Tucker her other best friend as well, and cares for him nearly as much as Danny. but the two are quite opposites (his meat habits as opposed to her vegetarian habits, his lighthearted behavior to her more down-to-earth method) and often bicker over even the most mundane reasons.
Sam sometimes considers him to be an annoyance but is shown to still enjoy his company. This is shown when she broke up with Gregor because of how he insulted Tucker behind his back in "Double Cross My Heart", showing that she cares more about the feelings of her friends than to impress a boy. In the episode "Life Lessons," Tucker and Sam are caretakers of a flour sack for a school project.
Upon Jazz's admittance of her knowledge of Danny's ghost powers, Jazz begins to assist Tucker, Sam, and Danny in capturing various ghosts which attack Amity Park.
In the episode "Girls' Night Out," Sam gains respect for Jazz's ghost-fighting abilities when her plan to rescue Amity Park from the allied Spectra, Ember, and Kitty is successful. Both of them work together without disagreement in the later episodes and try to keep Danny's secret from everyone.
Undergrowth, a plant ghost, overshadowed Sam and became her "father" once he took over Amity Park. He turned her into his second-in-command because of her love for nature. He went as far as giving her plant-related powers to serve as a new "mother" for Undergrowth's plant children, although she was mind-controlled by him the whole time.
In "Beauty Marked", Dorathea disguises herself as a human named Dora Mattingly, and organizes a beauty contest at Casper High to find a bride for her brother. Sam is accidentally named the winner and Dora takes her to the Ghost Zone to marry Aragon.
While preparing for the wedding Dorathea confesses to Sam that her brother constantly bullies her and forces her to do whatever he wishes. Sam responds by doing her best to fill Dorathea with confidence so she can stand up to her brother, telling her they share the same power and is just as strong as him. Eventually Aragon is defeated and Dorathea takes over their kingdom as the new ruler.

In "Beauty Marked," Prince Aragon wishes to have a human bride, so he sends his sister to find a suitable woman via a beauty pageant. Danny becomes the judge of the pageant and accidentally chooses Sam as the winner.
She is transported to Aragon's castle, where she undergoes preparation to be his wife and queen. However, in a manner typical of some villains who desire a queen, he treats Sam in a highly misogynistic manner. Danny and Tucker eventually rescue her, along with Dora's help.
Introduced in "Double Cross My Heart," Elliot attempts to impress Sam in order to date her. He disguises himself as a Hungarian foreign exchange student named Gregor and tells her he is a goth and an Ultra-Recyclo Vegetarian.
Suspicious of his claims, Danny follows him and Sam on a date one night using his invisibility power, further suspecting him of associating with the Guys in White (since he wears all white like they do, even though he states that white is the new black in Hungary). This upsets Sam, who considers actually dating Elliot.
However, Elliot insults Sam's friends and accidentally reveals his identity as a womanizing American teen from Michigan, which causes Sam to lose all interest in him.
Sam and Dani didn't spent too much time together during the series, in fact when they first met, Sam seems to have an instant dislike for Danielle as she (unintentionally) spilled food her and Tucker and later when she found out she was working for Vlad her dislike for the younger Half-Ghost grew but apparently by the end Sam seems to have forgiven Dani since she help saved Danny from Vlad (and the trio from being grounded).
After Phantom Planet, Butch Hartman revealed that Danielle was adopted into the Fenton family, this means that Sam and Dani would have come to know each other over the years and grew to care for the other, especially since its implied they will eventually become sisters in laws.
Powers and Abilities
Powers
Sam doesn't have any supernatural powers on her own, though she has gained ghost powers in some way during several episodes:
Dragon Transformation (briefly): In "Parental Bonding," while wearing Princess Dorathea's amulet, she was able to transform into a dragon when she got angry. This form gave Sam superhuman strength, flight, and the ability to breathe fire.
Plant Control (briefly): In the episode and videogame Urban Jungle, while being under the control of Undergrowth, Sam had the ability to command plants, which she used to attack and trap her enemies. To what extent is unknown, but she was able to use them to capture Danny in their brief fight.
Flight/Levitation (briefly): In "Doctor's Disorders," Sam briefly gained the ability to float after she was bitten by a ghost mosquito, though she wasn't able to control it and often found herself stuck against the ceiling because of it.
Abilities
Fenton Weaponry Expertise: Sam can use the Fentons' ghost-hunting technology with great expertise and skill. She often uses them to help in battles or in Danny's ghost training. Sam is skilled with the Fenton Weaponry. She, along with Tucker, is often shown using the Fenton Thermos with great aim. Sam has also been shown to be capable of wielding Bazooka's well enough to be able to aim and fire rapidly. Sam is often seen using the Specter Defector on numerous occasions.
Paranormal & Mythology Knowledge/Occult Knowledge: Sam is quite knowledgeable about goth subjects; anything spooky or creepy like dark and evil artifacts. Danny was only able to defeat Fright Knight and Box Ghost with her knowledge of the Soul Shredder and the Pandora's Box, respectively. This ability also came in handy during Freakshow's attack on the Dumpty Humpty concert in Reality Trip. Reading a book written by Freakshow himself allowed her, Danny and Tucker to send the Reality Gems away. She has extensive knowledge of Greek Mythology, because of her affinity with dark stories. She was able to identify Pandora's box with relative ease due to the book she bought at a store. She was able to help Danny fight Pandora's box and Box Ghost.
Multilingual Skill: Like Danny, Sam learned how to speak Esperanto in case they met with Wulf again. She has also displayed some knowledge of French, Italian, and Japanese, between other languages in the episode "Urban Jungle" while talking to her plants.
Athleticism: Sam has displayed athletic ability on multiple occasions. She's able to shoot perfect Basket Ball shots without even looking, proved to be a good runner and performed five chin ups and a bar flip with ease. She has also completed a boot camp styled course involving monkey bar climbing and tire running. In Micro Management she was chosen be Tucker's fitness buddy/trainer. Additionally she was shown to be strong enough to leave a dent in a locker after punching it and crush a metal napkin dispenser in her hands. She was able to pass gym with an A and it is shown that she is more physically fit than Danny in his human form, and Tucker Foley.
Sightings
Sightings
Season 1
Season 2
Season 3
Crossovers
Sam is still Danny's best friend and girlfriend. She is there to support him and sticks with him through all of the new challenges thrown their way. She and Danny are always struggling to find time alone, away from fans and the media, as well as complete their mission. They still battle ghosts, and Sam is determined to make sure they succeed.
Version 1
The idea behind this first version is that Sam is Danny's sidekick, in that she is still capable and a good fighter but at the end of the day Danny is the core, defining character in the team. Hartman commented that he sees Danny as a Captain America type of character, and so Sam would be Black Widow (in this analogy). If she is the Danny Phantom version of Black Widow, it is implied that she is a strong, adaptable, more than capable fighter. In addition to her skills, she also an arsenal of guns and machinery at her disposal.
Version 2
The second design is what she would wear as her everyday outfit. It has a hipster style to it because, as described by Hartman, gothic clothing was the equivalent of the early/mid 2000s version of a hipster. And so the new style would be an updated/modern version of that same attitude.
Version 3
The third version is another version of her everyday clothes, but unlike the previous version the style is similar to that seen in the series. The clothes and physical attributes are aged up and she now wears a jacket, but maintains a similar style/vibe to the original 14-year-old Sam.
Version 4
This version is similar to the first "Black Widow" version, but with an outfit more like her original clothes seen in the series. This iteration of Sam 10 years later is a Laura Croft-eque, armored, serious fighter.
Version 5
The final version of Sam 10 years later is a mix of the fourth (Laura Croft style) version and Sam's original design, with the clothes themselves resembling her original outfit, and her weaponry resembling the fourth version. Her outfit is similar to her outfit seen in the series. Her black crop top, black and green skirt, black boots, black choker and top ponytail remain the same. Her ponytail holder and leggings have inverted colors, with the leggings being green and the ponytail holder now purple. Her black crop top now has the Danny Phantom logo on it where the purple oval was. Her choker is more detailed, with either rhinestones or spikes on it. Added to her outfit are the goggles on top of her head, which are Maddie's goggles, and a purple Matrix-style jacket with a Danny Phantom logo on it. Her weapons include a larger version of the wrist ray, and a small hand-held blaster.
Quotes
Tucker: "Hey, Val? Isn't that the same Val that's usually on a jet sled trying to paste Danny?"
Sam: "Yep, and apparently next week we're having cookies with Skulker."
"Doesn't anyone in this town drive a compact car?"
Trivia
Sam's favorite colors are black and purple.
She originally was supposed to have a 'psychic connection' with Danny that would let one know where the other one was; however, this was nixed right before the premiere, since Danny already had ghost powers and Sam had other attributes; Butch Hartman didn't want them to seem too developed already. This connection is hinted at numerous times throughout the series when Danny and Sam have the same reaction or response to situations/comments, but is typically brushed off as merely being a case of long-time friends thinking alike.
She, along with Tucker, has been in all but one episode of the entire series ("Bitter Reunions").
Sam's name in the mainland Chinese dub is 小珊 (Xiao Shan), which means "little coral."
Sam comes from a Jewish background, which is revealed in the Christmas special). This is also implied in "Control Freaks" as her grandmother's nickname for her is Yiddish.

In "Life Lessons," she names her and Tucker's flour sack child "Lilith," which is a reference to the actual name of a female demon in Jewish mythology.

According to the 2005 Nickelodeon Magazine Ultimate Enemy edition, Sam's interests are horror films, sci-fi, and Japanese anime.

Sam enjoys monster movies, her favorites being female monsters Femalien, Terminatra, and Nightmerica (all of which are spoofs of various male monsters: Femalien inspired by Alien and Predators, Terminatra inspired by The Terminator, and Nightmerica inspired by Freddy Kruger). She also enjoys Akira Kurosawa's samurai films.
Sam goes by the pseudonym "Chaos" in the Doomed video game.
Additionally, Sam is a fan of music, including Nine Inch Nails. She also has a collection of vinyl records.
Sam also has shown interest in Gothic, Paranormal and Mythological/Occult literature. Throughout the series she has visited and brought reference to the goth bookstore Skulk and Lurk Books, and has frequented it often enough to consider it her favorite. Chronicles of the Fright Knight, Edward Gory and Goth's Guide to Mythology are three books she's purchased. Additionally, she enjoys attending poetry nights.

The book Edward Gory is a reference to Edward St. John Gorey, a writer and illustrator for gothic works.
On Sam's bedroom walls, there are posters that reference to various bands and movies, some of which include A Clockwork Orange, Einstürzende Neubauten, and Nine Inch Nails.
Sam has openly admitted to being a "cat person". [10]
Confirmed in "Secret Weapons," Sam is an only child.
She appears in the mobile game Nickelodeon Pixel Town (only available in Singapore, Malaysia, and the Philippines), you can get her if you merge Danny Phantom and Kraang from Teenage Mutant Ninja Turtles in the memory center.
Character Designer Stephen Silver drew his own take on what Sam would look like 10 years later.
Gallery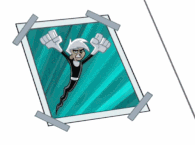 Click here to view the gallery.
References