Shadow is a ghost that belongs to Johnny 13. It lacks a distinct identity or personality beyond its joy for creating havoc as it is always seen smiling when it attacks. Johnny can summon him by whistling.
History
Shadow first appears in the episode "13," serving its owner Johnny 13. It forces the Fentons' Ghost Portal open to allow Johnny and Kitty through and continues to serve Johnny as he tries to woo Jazz. It is implied by Kitty that Johnny's "unlucky" reputation is due at least in part to Shadow's actions as "bad luck" occurs whenever it interacts with the environment, even when it doesn't actively influence anything: things are seen to fall apart or malfunction when Shadow simply goes through them, which makes it appear as though said things have acted up on their own accord, which caused Tucker to be considered bad luck when Shadow repeatedly meddled with things whenever he was around.
Shadow appears again in the episode The Ultimate Enemy," pushing a wheelchair-ridden Johnny around. While Johnny appears to have aged, Shadow hasn't changed at all suggesting that, while bound to serve him, it and Johnny are essentially two separate ghosts.
Shadow also has some of the properties of an actual shadow, temporarily vaporizing when bright light hits it and not mixing well with water. It can also hide within Johnny's "natural" shadow, merging into it and becoming indistinguishable from it until it is called on as it was not seen at all under the motorcycle until it was required to hold the portal open for Johnny and Kitty. During a few situations in which Johnny sends out Shadow, Johnny is seen without a shadow of his own briefly. However, there are also times in which Johnny is seen with a shadow even after Shadow is sent out, so this may just be an oversight.
Appearance
Shadow is a wispy black ghost, essentially a humanoid shadow with a mind of its own. It has glowing green eyes, fangs, and claws. Its "hair" wisps up into three strands, and it has a ghostly tail. It lacks a distinct identity to Johnny 13.
Powers and Abilities
Shadow's powers all center around bad luck. When he passes through an object, it breaks, falls apart, or otherwise malfunctions.
Weaknesses
In bright light, Shadow dissipates. In contact with water, he becomes a puddle of black goo. Both of these conditions render him powerless.
Sightings
Season 1
Season 2
Season 3
Gallery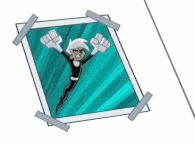 Click here to view the gallery.
Community content is available under
CC-BY-SA
unless otherwise noted.