Sojourn[1] is a traveling nomad ghost.[2]
History
Sojourn is a nomad ghost who has explored and catalogued every single section of the Ghost Zone. According to legend, he is the only ghost ever to have found the Elsewhereness. He recorded all of his findings in his journal.
Appearance
Sojourn is a bald green ghost. He wears a loose white robe with a hood, with a gold belt and gold trim. He has a gold bracelet on his right arm and wrapped bandages on his left arm. He carries a journal which has an orange cover with an eye on the cover and a green bookmark.
Journal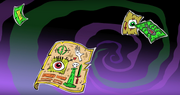 Sojourn recorded all of his discoveries of the Ghost Zone in his journal. Presumably, an unknown event caused him to lose his journal, and some of its pages now float randomly throughout the Ghost Zone. The pages are highly sought after by all ghosts because they contain clues to the location of the Elsewhereness. Only a few of the pages have been gathered. Vlad Plasmius will stop at nothing to acquire as many pages as he can so that he can find the Elsewhereness and ultimately rule it.
Trivia
Sojourn was introduced by Butch Hartman in a video that delved further into unexplored parts of the Ghost Zone not seen over the course of the TV series.[2]
Sojourn has yet to make an official appearance in the series.
Hartman made a preliminary alternate design of Sojourn as he developed him. This design features a white cloak, which he still has, but he has teal skin and a green beard and hair, a blue uniform, and a staff and belt with red eyeballs on them.
The noun "sojourn" means "a temporary stay;" as a verb, it means "to stay somewhere temporarily." This is an obvious and fitting reference to Sojourn being a nomadic ghost.
In a livestream, Hartman said that he thinks Sojourn's voice would sound "very ethereal and echoey." Possible voice actors he thinks would be a good fit are Anthony Hopkins and Ian McShane (though he sees his voice as more appropriate for a ghost king).[3]
References