Help. Help me. Help.
This page, while not being a stub, still needs some attention.
Angela and Maurice Foley are minor characters in Danny Phantom. They are Tucker Foley's mother and father.
History
In "Public Enemies," Maurice and Angela walk into Tucker's room to remind him and Sam Manson of the new nine o'clock curfew and to have them power down all their technology. Angela tells Sam that they can't take her home as it is too dangerous, and proceeds to unroll a pair of sleeping bags so she and Maurice can sleep in the same room as the kids and make sure they are safe.
In "Life Lessons," Angela mistakenly uses all the flour sacks from Tucker's daycare service to bake cookies, thinking that he had picked up all the flour for her.
Both Maurice and Angela appear in "Pirate Radio," alongside all the other adults under Ember's musical mind control. They are ordered to exercise to power Youngblood's ship.
In "Reign Storm," they are seen in the Fenton Works' Lab during the unveiling of the Ecto-Skeleton as well as lying on the floor after the volunteer incident, implying that they were part of the chain of people who knocked each other out to take on the risk of using the suit.
Near the end of "The Fright Before Christmas," Angela and Maurice are seen walking up to their recently restored Christmas tree and returned presents, which tumble out from their fireplace.
In "Reality Trip," they arrive at Fenton Works after learning that Danny is a half-ghost to confront Danny's parents. While the Fentons and Mansons argue, Maurice steps in to make sure no one blames Tucker for anything. The couple is then kidnapped along with the other families by Freakshow. Later, when they are all trapped in cages, Jeremy Manson tells Maurice, "This is Fenton's fault. Pass it down," which Maurice proceeds to tell Jack Fenton.
They appear in "Forever Phantom," where Angela makes meatloaf for the family. When Amorpho, who's disguised himself as Maurice, comes in, he throws the meatloaf on Angela's head and proceeds to jump out the window. The real Maurice then enters, and Angela hits him with a serving platter before chasing him out of the house and down the street.
They appear outside the Town Hall in "Phantom Planet," applauding Danny Phantom's plan into turning the Earth intangible for the Disasteroid float through it.
Sightings: Angela
Season 1
Season 2
Season 3
Sightings: Maurice
Season 1
Season 2
Season 3
Gallery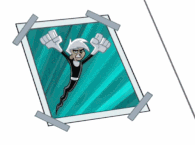 Click here to view the gallery.