"Ignorance of the law is no excuse for breaking it, punk."

It's been almost a month since I became the new admin of this wikia, and now it's time to set some rules in this wikia.
Rules
This page is for the rules of this wikia, and is only editable by the admins. Make sure you read all the rules before editing.
These rules are subject to change without prior notice.
How to interact with other users?
No insulting users or vandalize articles or pages, ghosts, images, etc…
Hacking other user's accounts is expressly PROHIBITED (grounds for an immediate ban of the user who hacked).
Say your name
No registering with a vulgar, long or incomprehensible name (grounds for an immediate ban).
How do I look?
Users will be banned for having a pornographic, hentai, or offensive picture as an avatar.
Do not create 2 or more user accounts at once without giving a reasonable explanation (grounds for a ban for both accounts).
What am I looking at?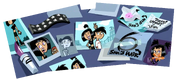 This are the rules you must follow when you are uploading a photo:
No images with pornography, hentai, fanart, cosplay, etc. without a good explanation.

Whoever uploads a fanart or cosplay picture shall be warned. If they keep uploading this kind of pictures, they will be banned temporary or permanently.
If the picture is porn, hentai, or anything similar, the user will be banned permanently.

Images must not have any watermarks of any kind.
Images must have at least medium quality in order to stay in this wikia. Pictures with small resolution or photos taken of a TV or computer screen are not allowed.
Before uploading a picture, make sure it is not already in the system.
Danny Phantom Wiki is not a hosting site; do not upload images unrelated to Danny Phantom or Wikia.
Do not upload any files containing viruses, spyware, etc.
Pictures must be named according to the season number and episode number followed by the name of the object(s), place(s), or character(s) in it. For example, "s01e03 Box Ghost.jpg" is an acceptable name. Pictures with names like "tlumbrjfh29847fj7", "28288397653", or "ne3jnwjkenkj33" shall be renamed and the uploader shall be warned. If the user keeps uploading pictures like this he/she will be banned temporary or permanently and the pictures shall be deleted.
For more information or details, please visit our section on images/videos.
Trivia or goof?
Trivia comes before goofs/errors.
I'm a blogger, yeah!
Please see our section blogs.
What's the name of the page?
When a page is renamed, redirection links must be left behind unless told otherwise.
Community content is available under
CC-BY-SA
unless otherwise noted.